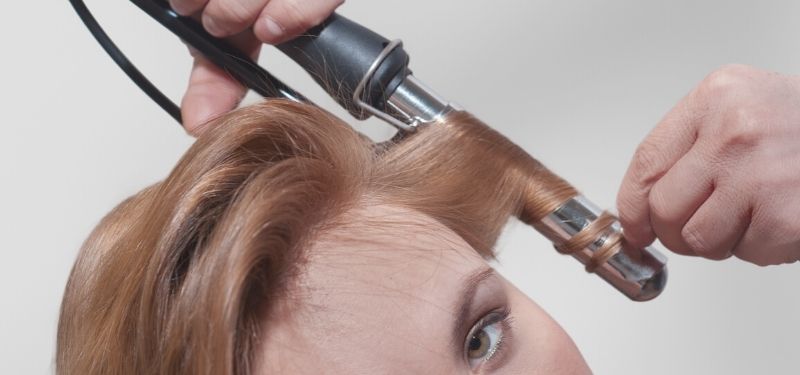 If you have fine hair, then you're all too aware of the struggles that go into trying to get your locks to hold a style. After all, part of the appeal of getting all glammed up can lose some of its fun when you know your strands are just going to revert back to their original state within the hour. Super annoying. Using curling irons for fine hair can help, but there are some things you need to know.
Curling Irons and Fine Hair
The lack of volume and texture that accompanies fine hair can make it difficult to achieve and maintain signature looks, such as bouncy curls or beach waves. (Especially if a curling iron or styling tool is going to be involved.) In addition, there's a lot of debate within the beauty community on whether or not heat tools should be used on fine hair in the first place. Thankfully, there are a number of resources available to teach you how exactly to curl your hair so that it sticks, and most importantly, how to do so safely.
All hair types can be curled through the use of hot irons, as long as you make sure to utilize the correct products both before and after. Curling your hair does not start when the wand touches your locks, but rather as you begin the proper precautions necessary to maximize the health of your hair.
For those with fine hair, this means that individual strands are weaker and more delicate, thus becoming more slippery. Aside from that, fine hair is also extremely sensitive and easily broken, and because heat tools are known to drain moisture from the hair, this is what usually causes damage in the tips. While curling irons alone are not the sole cause of ruining your hair, it's often advised that they should not be used on the daily. As much as possible, you should try to consider alternative, heat-free options for styling your hair when you can. These can include air drying your locks every once in a while, or opting for other methods such as using mousse and various volumizing sprays and texture products that will lend the same effect.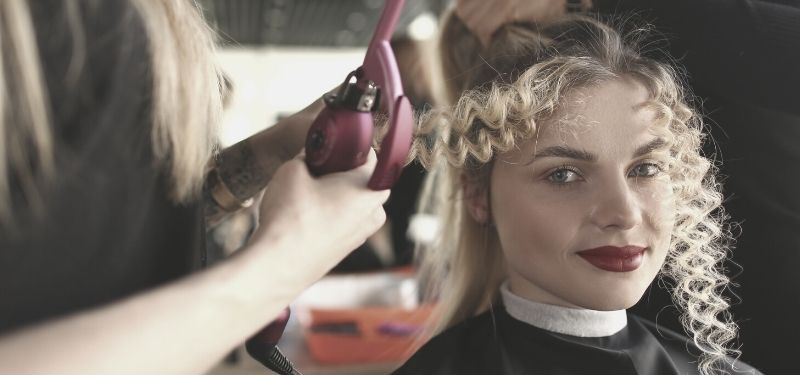 Best Hot Irons For Fine Hair
The first step in properly curling fine hair is to choose the right iron. One vital factor to watch out for when selecting one is to pick an iron that allows you to control the temperature settings. This is necessary because fine hair is very prone to heat damage, and does not need an excessive amount of it to be styled.
Make sure to also stick to ones made out of ceramic because metal irons will cause unwanted heat damage unknowingly. You may opt to purchase a cheaper model that is merely coated in ceramic rather than being made from it, but these will need to be replaced more often.
Lastly, you'll want to assess the size of the barrel. If you're looking to create tight curls, a small barrel is perfect for achieving this. If it's loose beach waves that you're after, then a bigger barrel is what you need. Some curling irons will even come with minerals infused in the barrels that will condition and hydrate each strand as you go about your routine. Other irons will come with adjustable barrel sizes, which can double down on your prep time when necessary and are useful for creating versatile looks.
How To Use A Curling Iron On Fine Hair
When it comes to actually curling your hair, you'll first need to lay down the right groundwork to ensure that your hair is getting the best and most effective treatment possible so that it stays healthy and in place. Following proper protocol will not only minimize the potential risks to your hair, but will also help you achieve volume without any damage to your strands.
A few tips for using curling irons for fine hair:
Tip#1: The most important rule of thumb is that your hair should be completely dry before you use any hot tools on it. Curling even slightly damp hair can be dangerous, especially if your hair is already delicate to begin with.
Tip#2: It's also a must for you to work with products that are specifically formulated to aid with heat styling, as using standard items may not be as helpful in the long run. Consider investing in a heat protectant spray or serum that you can apply to the hair before you begin the styling process.
Tip#3: When you switch on your iron, use it at a lower heat setting as much as possible. Stylists will recommend a temperature of not more than 350 degrees, though you can also go lower.
Tip#4: In addition, avoid having the curling wands touch your hair for too long. A duration of three to seven seconds is more than enough time to get fine hair to curl.
Tip#5: Once you're finished, pin each curl to your head and add some hairspray while you work on the rest of your hair. This will help the curls to set in a way that does not require more heat.