Choosing Bangs for Fine Hair Styles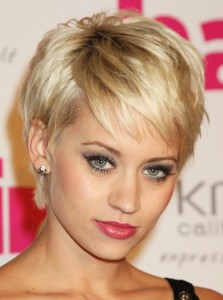 If you are a member of the fine hair nation, then you know that styling your fine or thin hair every day is not even an option – and bangs for fine hair can present yet another challenge. Blessed are those that wake up in the morning and decide whether they want to go through the hassle of blow drying or not, while some can consider not even washing it.
The bearer of fine hair has to be meticulous every day when it comes to the choices they make about their hair: the shampoo, the volumizer, the best hairbrush for fine hair, and especially the cut. Can you have bangs if you have hair extensions  ? Given the lack of volume, most people with fine hair don't even consider bangs an option. However, with the right cut, education, innovative products, and tools, fine-haired people can enjoy the soft look that bangs afford as well. Done correctly, bangs can provide a sort of "permanent style." Here are ideas for fine hair styles for bangs, and some tips on developing the right bang for you:

The Cut
A side swept, layered bang with an off center part for the rest of the hair will also give the illusion of fuller hair, while not lying directly on the forehead and absorbing oil, avoiding the "five o'clock greasies."
Straight bangs work well with short, choppy layers.  Great for fine hair styles for bangs, the overall effect of this cut will be added volume and texture, making the hair appear fuller.
Those that are adventurous or want to spend as little time as possible on the maintenance of their locks can opt for the short, tapered bangs that come with the pixie cut. Short hairstyles with bangs for fine hair can be sexy and offer a style-and-go option.
 The Tools
A medium round brush:  Essential for adding volume to the bangs without adding curls. Wrap bangs (depending on length, very short bangs may require a smaller round brush) around brush and blow dry, pulling the hair out with the brush a few times until they are dry.
A flat iron:  Often thought to be a tool only for curls that want to go straight, the flat iron can also add volume and control to flat hair with flyaways. Heat your flat iron and when hot, grab your bangs from the root and pull away from the head slowly, turning your hand under to create volume and bounce. When done, pull bangs apart to either give them a "piecey" look, or sweep them to the side.
A large barrel curling iron:  Using a large barrel will give you major height in your bang if you want it, or just a little "oomph," depending on how long you keep your bangs in the iron.
Products That Support Bangs for Fine Hair
Root Lifter:  Not only important to make hair appear fuller, root lifter, when sprayed on the root of your bangs and then blow dried, keeps the hair off of your forehead, where it tends to pick up oils. It is also important if you want your bang style to hold a voluminous look all day.
Thickener/Volumizer:  Whether you have never or always used a volumizing mousse,   thickening cream or serum, it is imperative to do so every day if you have decided to get bangs. Bangs for fine hair, while softening your look and adding dimension and fullness to your hair, will only make your hair look even limper than before if you don't use a volumizing agent.
Hairspray:  Probably the most important product in your hair regimen, hairspray can either make or break your style. If you spend more money on anything, let it be the quality hairspray you will find from a line at your stylists. These high end products are formulated to hold your hair all day without the stickiness of drug store brands, while adding shine, controlling flywaways, etc.